Company Name
Contact Info
Location

ARGESAN KALIP SAN VE TİC LTD ŞTİ

Ahi Evran OSB Mah. Oğuz Cad. No : 11 06935 Sincan / ANKARA / TÜRKİYE / Sincan / ANKARA / TÜRKİYE

Hall: 11

Stand: 1117B

Product Groups
Company Info

Products

Represented Companies

Company Brands
Argesan Kalıp San.Tic.Ltd.Şti. was established in 1990 to produce plastic injection and metal sheet mould productions.At the end of 1999 Argesan stopped to produce these productions and started to manufacture Stainless Steel Staircase Railing and Connection Acccessories in Ballustrades and Handrails.In the developing process Argesan added it's product category Stainless Steel Glass Connection Accessories in accordance with market needs. ARGESAN is a leading company and well placed in his sector both in domestic and foreign markets with the conception of high quality production,delivery on time and consecutively service and has more than 2500 kinds of product varieties which have been produced by his own moulds. Argesan has higly experienced Project Department that can also make special productions according to the customer needs and their special demands that makes Argesan source feature in his sector. Production in Argesan is realized by different steps with extremely careful labor. Approved customer demands are transferred to project department, design works, technical calculations and production drawings for the orders are executed by our professional project team. Period of production it consists of three main sections as welded production, machining and surface finishing. The experience that Argesan gain from its activities till now is important for the development of our new products. All of our products is designed in high quality and taking care of safety, ease of application. In the wake of being committed to new technologies and RD activities ARGESAN made an investment of 5+1 Axis Laser Machine and is ready to meet the demands of manufacturers who need multi axis laser cutting products. Argesan has continuing it's productions in 7.200 m2 factory area in Ankara Sincan Organize Sanayi Region.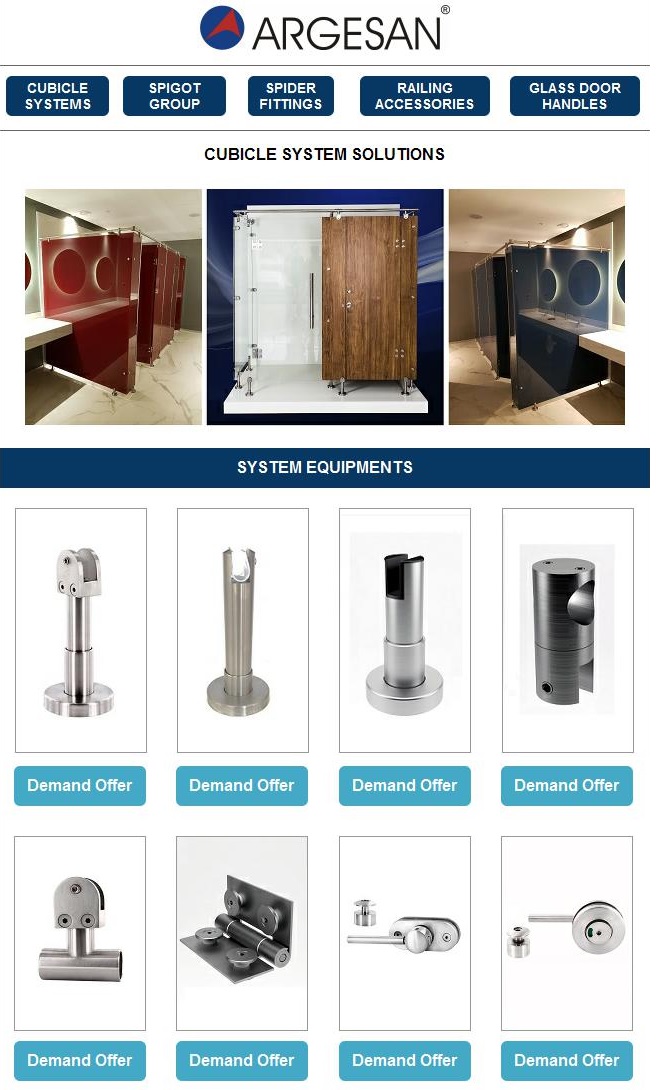 Cubicle Systems
Cubicle Systems
PRODUCT DESCRIPTION:
We have all kinds of stainless steel cubicle systems for toilet partitions or shower cabins.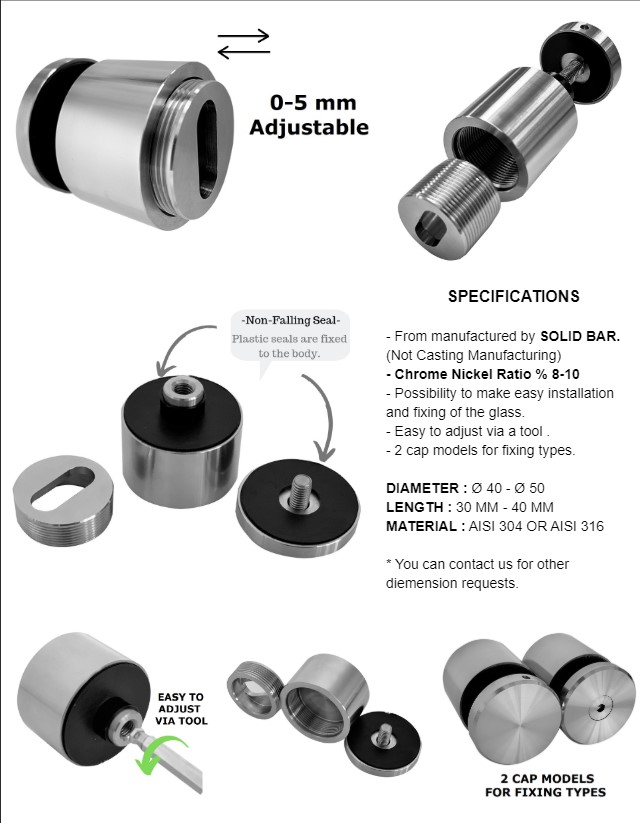 Adjustable Solid Single Point Glass Holder
Adjustable Solid Single Point Glass Holder
PRODUCT DESCRIPTION:
SPECIFICATIONS - From manufactured by SOLID BAR. (Not Casting Manufacturing) - Chrome Nickel Ratio % 8-10 - Possibility to make easy installation and fixing of the glass. - Easy to adjust via a tool . - 2 cap models for fixing types. DIAMETER : Ø 40 - Ø 50 LENGTH : 30 MM - 40 MM MATERIAL : AISI 304 OR AISI 316 You can contact us for other diemension requests.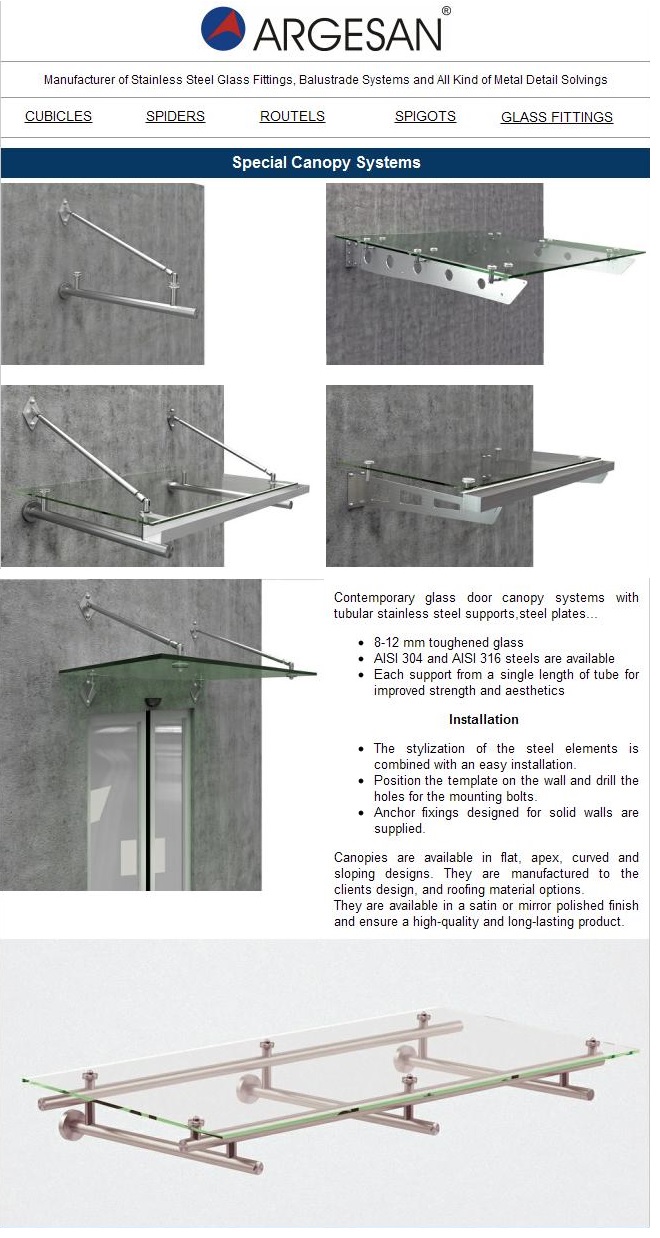 Canopy on Door Systems
Canopy on Door Systems
PRODUCT DESCRIPTION:
We have special design solutions for cnaopy on door systems.
No represented companies found.