Company Name
Contact Info
Location

AKAR MAKİNA SAN. VE TİC. A. Ş.

ORGANİZE SAN. BÖL. 14. CAD. NO: 8 / ODUNPAZARI / ESKİŞEHİR / TÜRKİYE

Hall: 12

Stand: 1214C

Product Groups

Glass Ovens and Furnishings
Company Info

Products

Represented Companies

Company Brands
Established in 1990, Akarmak is based in Eskisehir, Turkey and offers autoclaves, medical waste sterilization systems and tire retreading machinery to its world-wide customers. Akarmak has many years of experience in manufacturing high technology Autoclaves for various industries including Glass, Aerospace, Composite, Tire Retreading, Rubber, Building Material and Food industries. Having advanced engineering, design and manufacturing capabilities, Akarmak is able to offer autoclaves with the following certifications Pressure Equipment Directive 2014/68/EU (PED) Simple Pressure Vessels Directive 2014/29/EU (SPVD) ASME SEC VIII Div. 1 (U&S) EAC (GOST) EN ISO 3834-2 AD 2000 HPO ISO 90012015 Other certifications that may be requested by authorities of different countries and jurisdictions. The Akarmak autoclaves can be offered with CE, ASME, EAC (GOST) certifications. Akarmak autoclaves are certified by well-known world certification agencies including TUV, Bureau Veritas, OneCIS, Lloyd, Hartford Steam Boilers. Having many years of know-how and experience, Akarmak also offers one of the largest product portfolios for Medical Waste Sterilization technology. Our product portfolio includes high capacity centralized plant sterilization machinery as well as smaller size hospital base sterilization equipment in both pre and post autoclave shredding technologies. Tire Retreading is another industry in which Akarmak has many years of experience. The tire retreading machinery has been offered by Akarmak from the early start of our company, and the product portfolio includes truck tire retreading (TBR) and off-the-road tire retreading (OTR) machinery with the ability to set up turnkey plants for our customers. Akarmak Quick Facts Established in 1990 and operating in Eskisehir - Turkey Industrial Zone A workforce of over 100, including a professional, experienced management team and highly qualified workers Well equipped and technological manufacturing plants Advanced engineering, design, manufacturing capabilities and well-established supply chain Growth and export oriented company with growing customer base in over 50 countries Advantageous logistics and close proximity to world markets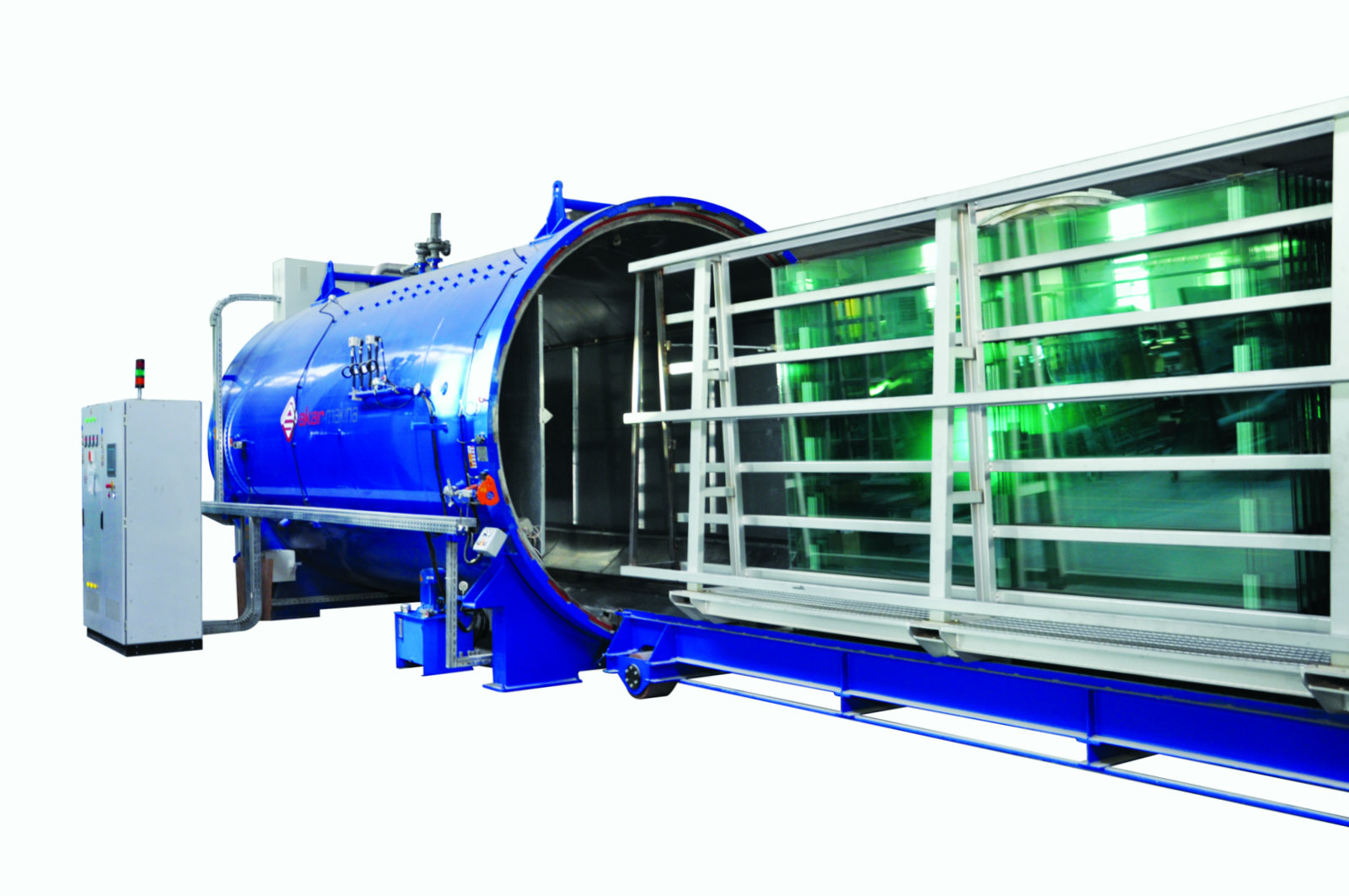 Autoclave
Glass Lamination Autoclave
PRODUCT DESCRIPTION:
Autoclaves for the production of Laminated Architectural Flat Glass, Bullet Resistant Glass, Auto Glass Akarmak manufactures glass lamination autoclaves for the production of laminated flat glass, bullet resistant glass and auto glass. The autoclaves are offered at different working diameters and length and can be custom-designed according to customers requirements. The autoclave range includes small sizes as well as jumbo glass size. Akarmak autoclaves feature advanced user friendly control systems, glass loading trolleys, vacuum systems, cooling towers, and air compressors to allow Akarmak to offer turnkey solutions for its customers. The Akarmak autoclaves can be offered with CE, ASME, EAC (GOST) certifications. Akarmak autoclaves are certified by well-known world certification agencies including TUV, Bureau Veritas, OneCIS, Lloyd, Hartford Steam Boilers. Custom-made solutions for flat and curved glass, bullet resistant glass and autoglass lamination Design and manufacturing in 2014/68/EU (PED), ASME SEC VIII Div. 1 (U&S), EAC (GOST) standards User friendly and flexible PLC and SCADA control systems Ready to use reciepes for different glass thicknesses, tempered glass, PVB and SGP applications Electrical, indirect steam and thermal oil heating Product temperature control during lamination High quality and energy efficient insulation Optimum air circulation and homogenous heat distribution Easy to maintain heating and cooling battery design Highest safety standards and superior durability Turn key solutions including: Cooling Tower, Vaccum Systems, Glass Loading Trolley, Pressurizing Systems
No represented companies found.